Wreaths for all occasions

Wreath signs for all occasions
Wreaths for all occasions
Deco mesh wreaths
Floral wreaths
Wreath signs for all occasions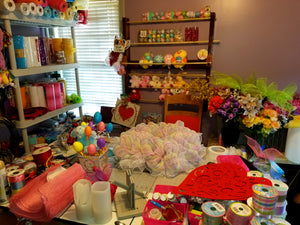 About Merry Mind Studio
Hi, and thank you for visiting the home of Merry Mind Studio. We specialize in handmade wreaths, rails, and wreath signs. Our products are all exclusively designed and hand crafted by us in our Fredericksburg, VA studio.
We also take custom orders for new product designs or modifications to existing designs.
We are passionate about our products so we use only the best materials available on the market to provide true quality.
We select color-fast materials and use polyurethane spray sealer for protection. All wreaths are then finished with a padded rear lining to avoid damage to doors and wall surfaces.
The most frequent response from our customers is that you really need to see one of our wreaths to fully appreciate the craftmanship in the design and detail.
We provide personal customer service to address any questions or concerns you may have at anytime throughout your shopping experience with us. We are there from your first contact until our product is in your hands.
Thank you for checking us out.